Plume WorkPass application gives control and visibility of a small business network to it's owner. Perfectly tailored for companies with up to 10-15 employees on average.

Short intro about what is Plume WorkPass can be found HERE
Why is WorkPass Wi-Fi so good?
WorkPass Wi-Fi helps to optimize productivity and give peace of mind to small businesses. This category of companies do not have big IT budgets for systems that are designed to serve large enterprises.

Consumer solutions on the other hand are not designed for keeping small business needs in mind. They are too light and fail to answer the extra security and control needs of small businesses.

WorkPass similarly to HomePass is not only Adaptive Wi-Fi for guaranteeing seamless Wi-Fi connectivity for business to run smoothly. It also offers a virtual firewall for small business network. Wi-Fi Motion sensing helps detecting movement in the business premises of employees, invited and also uninvited guests.
Another value in itself is the design of the Workpass interface. It does not require an IT person/company to operate Workpass – a tech savvy employee is enough. ISP also has very easy possibility to help configure the network and changes to take effect right away if needed from distance.

What features WorkPass offers?
Next, we will go through some of the features that illustrate the distinctive values of this turn-key solution.
THE POWER OF DIFFERENT NETWORK ZONES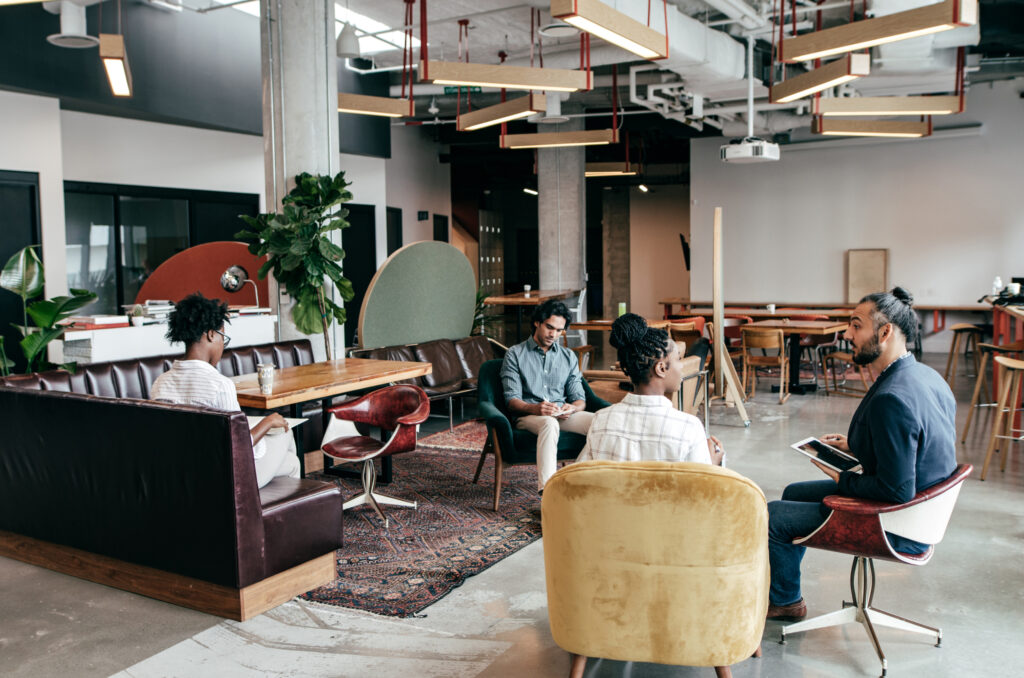 Division and Governance helps to provide added security in a small business network.

The customer can configure up to 3 different Wi-Fi network SSID-s, create device groups for easy sharing and access, keep the local area network segregated and secure.
1. Secure zone SSID:
Secure SSID is meant for devices that should be segregated from the rest of the network. In other words, for business infrastructure that requires controlled access.
All devices connected via ethernet cable appear in this this zone automatically. By default, only devices on Secure zone can access other devices in the same zone.
2. Employee zone SSID
This SSID is meant for the employees of the company, many of whom may be using personal devices (added security measure for BYOD).

Secure and Employee zones are sharing one and the same subnet, but automatically there is no access to Secure zone from Employee zone. Devices connected to the Employee zone have internet only access by default.

This is a highly useful security measure, as local area network access can be controlled in an easy to understand way. Sharing access to Secure zone for Employees separately by device or by group can be achieved by just couple of clicks in the WorkPass app.
Limiting network access to unknown devices connecting to Secure and Employee networks:

The ability to limit network access to new devices connecting to Secure and Employee zones is very useful too.
Just one click to enable/disable for both Secure and Employee SSID-s.

As an additional security measure this limits the access to your companies network of unauthorized users who might know the password to your Secure or Employee network SSID.
For best Wi-Fi security, it is advised to keep this feature enabled.
3. Guest zone SSID

The customer has an easy way to configure a Captive Portal for guests of the business. This is especially handy in coffee shops, restaurants etc. The company's logo and business info can be displayed to users trying to access this network.
The devices connecting to Guest zone SSID will be automatically segregated via separate subnet from Secure and Employee zones. So there is no way of any suspicious devices accessing the company network from guest network
The internet usage of Guest zone can be limited by percentage, so guests do not use up all of the small business' bandwidth.
Guest WiFi - marketing and guest analytics tool!
Different login options can also be used for letting guest authorize themselves and give consent for any marketing campaigns initiated by the business: including email and Facebook login.

The business owner has real-time metrics and history of guest visits at his command to analyze how popular his business is at different times and which campaigns generate most visits.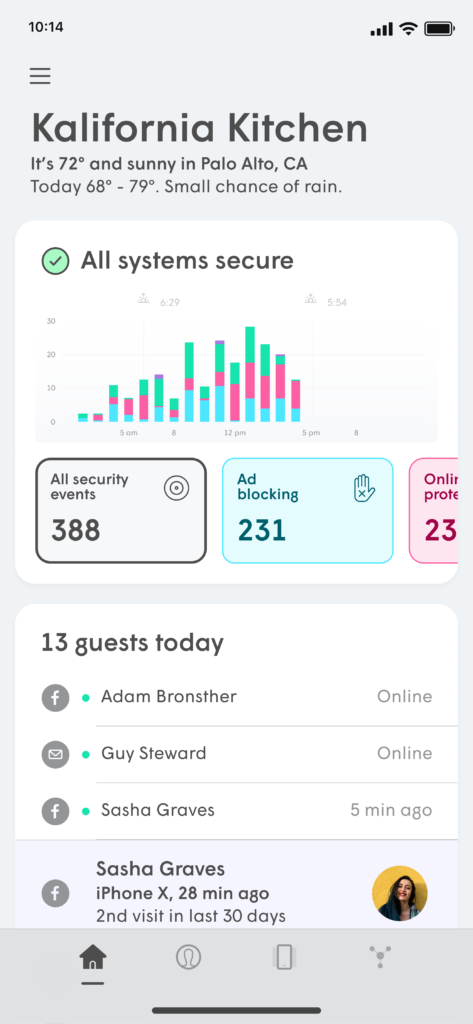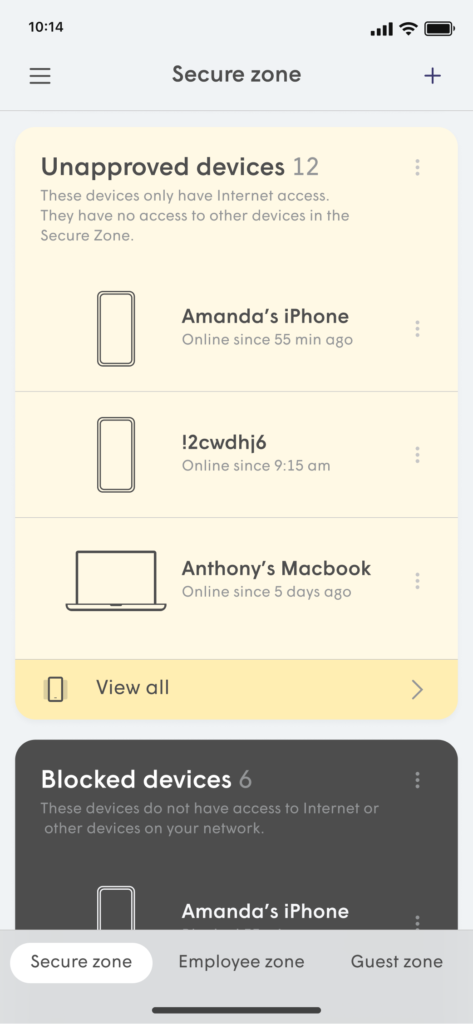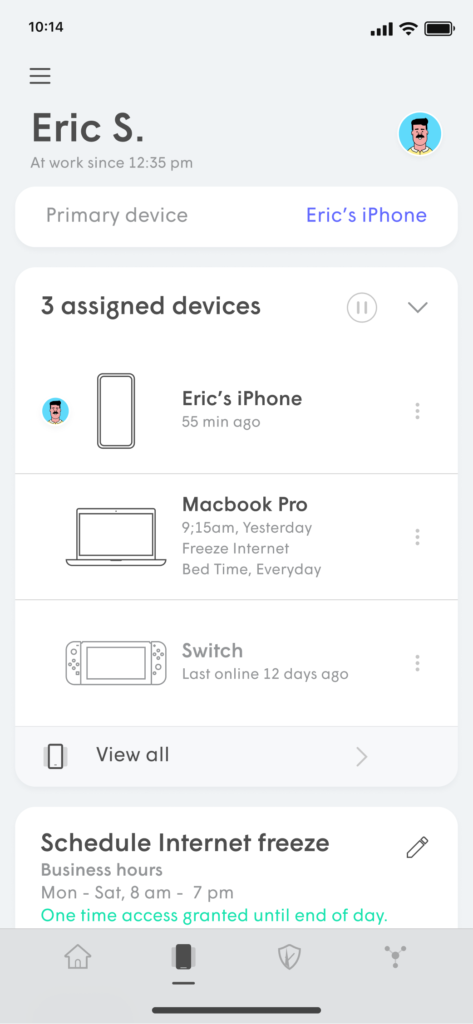 SHIELD – real-time network protection

The possibility of segregation and access control being really well thought through in Workpass. But it does not stop with that. There is possibility to also enable application monitoring and content access.

In addition to digital access the Small business network will have instant real-time Digital security being taken care of as well.
This is not an antivirus service, that should be installed on all devices and alone is not a sufficient security measure anyways.

WorkPass offers network level real time threat-protection that intercepts and blocks security threats by monitoring all the network traffic being exchanged between a scary place called internet and small business local area networks.

Three main features that can be separately enabled:
Online protection: Real-time threat protection against crypto mining, ransomware, malware & more
Advanced IoT protection: Identifies all connected devices and continuously monitors them for suspicious activity
If a device is compromised, it is quarantined, preventing the threat from spreading to the rest of connected devices on the network.
Adblocking: Blocks loading of web and video advertisements and requests to known ad servers.

With WorkPass the small business owner has full control over the online security service. It is not something anonymous pushed on by the service provider, where there is no visibility of security events or any possibility to control content access. For example, the business owner can block or approve certain websites / IP-addresses through the WorkPass app for all employees at once or separately by employee.
KEYCARD - metrics for employee management
The metrics displayed in WorkPass Keycard section provide the business owner a better overview and employee management possibilities.
At work – displays when employees arrive and leave work based on prescence of their primary device
Data usage – displays data usage for various application types
Most used apps – display the most popular applications used by the employee to help manage productivity
TIME OUT from internet at work!

There could be times when being online is actually in the way of productivity. For example, at meetings, training, or when it is just a good moment to stop and pause for a moment.

To make this possible and to ensure that employees are also present and paying attention at times of offline productivity the business owner has ability to set time out for online browsing from the WorkPass app.

This can be applied to whole network at once or to separate employees or devices.
By mere push of a pause button in WorkPass the access to internet is suspended. It can be reinstated as easily, when it is time to get back to online work.

FLOW - movement detection offers physical security
This feature has to be enabled to work.

Flow is based on Wi-Fi motion sensing. It uses disturbances in the Wi-Fi connections to detect movement. By monitoring changes in the Wi-Fi field, Flow uses the help of Plume cloud to detect which changes represent movement. When movement is detected, alert can be sent to the user's phone.
Flow includes the following capabilities:
Sensitivity of motion sensing can be adjusted
A live view and history of up to 7 days are visible in the WorkPass application.
Alerts can be turned on and off automatically, based on whether employees are present, no additional monitoring is reqiered.
NB! Shield and Flow there are separate 3rd party partner solutions in play who are world-class experts in the subject matter. Adaptive Wi-Fi algorithms, Cloud, AI and data science magic is however fully done by Plume.
CONCLUSION
All in all easy configuration through Workpass frees small businesses from the need to be and think like system administrators or technical support personnel. No need to pay for costly visits by IT companies and call the ISP helpdesk all the time for any quick changes.
If needed, more than one superuser can be set to have admin or read-only rights to small business network via Workpass.
WorkPass offers a possibility for the small business owner to achieve visibility and control of his business to boost productivity, and offer peace of mind that business is running smoothly, wherever he may be.
And not to forget – WorkPass communicates to Plume cloud, built on principles of virtualization and Software Defined Networking. This enables unprecedentedly fast new services delivery and scaling that is not comparable to CPE hardware centric solutions. Thanks to using open-source OpenSync software on supported CPE for communicating with Plume cloud, the risks of vendor-lock in are mitigated as well.
A strong product to answer small business needs! WorkPass is a solution unlike any other.
What next?
With a Plume subscription the ISP small business customers could get instant access to Plume services. Of course by using OpenSync and Plume certified devices. Both the software and suitable hardware are available through 3KGroup.

If you as ISP/fiber provider are interested to offer this unique services to your end-customers, then feel free to reach out for a demo. We will showcase how the service looks and feels both from customer and also from service provider viewpoint.


contact:
Karl Staub
Business Development Manager
+372 555 14 002
karl@3kgroup.ee